The most common question about dentures is, "How do I choose?" The choice of dentures should always be made together with the doctor. It is impossible to decide which option is better by reading reviews about dentures. Recommendations for each clinical case are individual. The choice of treatment is a complex consideration of physiological considerations, the patient's requirements for aesthetics, timing and care options for the restoration and financial considerations.
Permanent Dentures: How to Choose
Dentures have proven themselves to be excellent in terms of aesthetics, strength and durability. But their big disadvantage is the destruction of the supporting teeth and the absence of chewing load in place of the lost teeth, leading to atrophy of the bone tissue. All of these disadvantages are solved by the installation of . Implant patients are unanimous: they have forgotten that they have artificial teeth.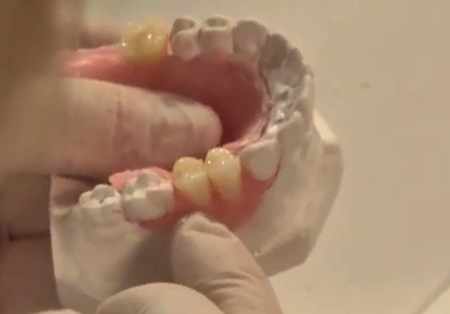 75% of patients with classic dentures say they would have chosen implants had they known the problems that would be caused by the onset of bone atrophy.
Implants are also considered the ideal solution for single crowns. If you are deciding whether you want a post-retained restoration or an inlay, in most cases dentists prefer bonded inlays. Their advantages are the absence of stress during insertion and the absence of pressure on the root of the tooth, leading to bone destruction, and as a result, the durability of the construction.
The lifespan of implant-supported bridges and single crowns is increased by 80%.
Interlocking Dentures: How to choose
The main objective of removable dentures is the appropriate distribution of masticatory pressure. But in any case, an implant-supported fixed prosthesis will always be better than a gingiva-supported and anchored prosthesis.
A conventional removable denture distributes 20-30% of the chewing load, while an implant-supported denture distributes up to 70%.
What Are the Best Implants for My Front Teeth?
Front teeth are not under a great deal of masticatory pressure, so nylon/polyurethane dentures will do an excellent job. They have a high aesthetic value. – They are a more advanced design that differs from previous restorations by the possibility of correction and repair. Temporary dentures are used for emergency aesthetic restoration of the anterior teeth, but should be performed as a temporary reconstruction (the period of validity is not more than 12 months).
Dentures for Weak Gums and Periodontal Disease
Often complex prosthetics are used. For example, the placement of a permanent bridge is recommended to fix the front teeth that are not moving. For restoration of the lost teeth of the masticatory group – soft partial dentures, which do not chafe the gums and have sufficient margin of strength.
We may include products we think are useful for our readers. If you buy through links on this page, we may earn a small commission.