Correcting crooked teeth with braces is a rather lengthy process. You need to learn how to take special care of your teeth and oral hygiene in general while you have braces on.
The dream of many people is a beautiful smile. Today everyone can turn the dream into reality thanks to modern possibilities. For those who want to change bite or align teeth, they invented a special construction – braces. However, obtaining the desired result is possible with the observance of all oral hygiene rules. Therefore, patients should know how to care for their braces to avoid tooth decay.
Dental Cleaning Kit
Dental care must be thorough regardless of whether or not you have braces, but with them you will have to prepare an arsenal of products that will be needed every day without weekends or holidays. It's not for nothing that they say beauty requires sacrifice. Here, too, those who wear braces to correct or correct their teeth should pay attention to oral care. This is especially true when food intake is imminent. Then it is necessary to have in the cosmetic bag a whole arsenal of various devices and means. Now, before you eat something, you'll think carefully about whether they are really so hungry to then spend time on cleaning your mouth.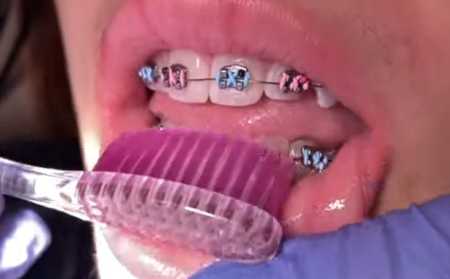 The Right Brush
You start taking care of your braces as soon as you have them in place. You will need to buy a V-shaped toothbrush with soft bristles. Hard bristles will irritate the already sensitive teeth. Positioning the brush at a 45° angle, brush away food debris three times a day.
The downside of a V-shaped brush is that it's hard to find its travel version, and the regular size can't be hidden in a small cosmetic bag.
Flossing
After cleansing, paying attention to the interdental spaces is an important part of braces and dental care. After uncoiling a small piece of dental floss, floss under the arch and between the teeth with the sharp tip, then work on all teeth. The procedure is carried out slowly, with gentle sliding motions so as not to damage the gums.
The downside of flossing is that the cleaning is not fast and the floss itself can get tangled, so you need to use small sections.
Flossers
Braces are also cleaned with brushes of different sizes, with brushes of different lengths. The advantage of brushes is that they are available in a wide variety of sizes. The disadvantage is that to effectively care for your braces, you have to carry several options at once.
Monobrush brushes with a cone-shaped or circular arrangement of bristles are used for treatment of long-distance teeth. Positive qualities of the tool are long pile. Minus – the transparent cap, which is easily lost.
Dental Wax
Those people who have not encountered the installation of braces, sometimes do not even know about the existence of dental wax. It is used to heal wounds on the cheeks and lips that appear from rubbing.
Wax is used in cases where the fixation needs to be corrected, and there is no possibility to visit a doctor. Then a small amount of the product is kneaded in the hands until softened and applied to the area of the brace where the discomfort is felt.
The wax tastes and smells good. The product lines have fragrance options, so that you can choose a suitable one. Wax is packaged in compact boxes.
Irrigators are indispensable for maintenance of the orthodontic system. With their help rinse your mouth, massage your gums and clean your teeth. The stationary set is compact and easy to move around. The reservoir is transformed into a case after cleaning.